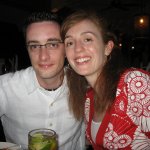 Bride and Groom Bios
Michael Hoke
Michael, born and raised in Colorado Springs, headed East after college at CU in Boulder. He dabbled in economics (aka 5 years in graduate school in Baltimore) prior to moving to Boston. Although his Harvard Law '07 degree is a great accomplishment, clearly the best thing he accomplished in Boston was wining Emmy's heart. He now writes memos (killer memos) for WilmerHale, a law firm in Boston.
Emmy Betz
Emmy grew up a mere hour north of Michael, in Denver. After college at Yale she spent a year living and teaching at an American School in Abu Dhabi, United Arab Emirates, and then headed to Baltimore (at the same time of Michael, coincidentally) for medical school and a masters in public health at Johns Hopkins. Although she works at the Fenway first aid station at Red Sox games (and occasionally saves lives in the emergency department at Beth Israel Deaconess Hospital), meeting Michael is definitely the best thing that's happened to her in Boston.
How we met
Emmy, a lonely and overworked intern, saw Michael's profile on Friendster and realized she needed him in her life. They met for coffee, and Michael, a lonely and overworked law student, realized that he needed Emmy in his life. So he asked her to marry him. Strangely, both are from Colorado and lived in Baltimore at the same time, but it took a cold Boston winter for them to finally meet.
How he proposed…
After carefully but quickly choosing a beautiful token of his love to offer the love of his life, Michael took Emmy to dinner at the Helmand, the site of their first dinner date and sister restaurant to one of our favorite places in Baltimore. After finishing the main course, Emmy started discussing the death penalty and life sentences in prison. Somehow, still a mystery to Michael, he managed to steer the conversation back to a much more promising "life sentence" – and asked Emmy to marry him. Then he remembered the ring in his pocket, and offered it to Emmy. Then he remembered he was supposed to go down on one knee to ask, so he knelt down and did it all over again. And she said yes.
The Wedding Party
Honor Attendants
Jen, Emmy's best woman and older sister, is a pediatrician living in Berkeley, California, with her husband Dan and adorable son Zachary. Despite never letting Emmy hang out with her and her friends during high school (who wouldn't want a 12 year old sister along?), she's a pretty awesome big sister.

Mateo, Michael's man of honor, is also pretty awesome, even if he's a younger brother. He just moved to San Francisco, California, where he writes, camps, cliff-dives, and makes amazing drinks. Michael brought his new brother to school as his first "show and tell" in kindergarten.
Bridesmaids
Liora Brener Fogelman was Emmy's roommate at Yale for two years. Although her family is from Mexico, she also grew up in the Denver area. But Emmy and Liora didn't meet until college, where they met on orientation weekend through introductions by their sisters (who had also roomed together at Yale. Liora returned to New Haven for law school and now lives with her husband Larry (also a lawyer) in Manhattan.

Melissa Tepe, an Obstetrics & gynecology resident living in St. Louis with her husband (Michael McFarlane), was one of Emmy's Yale roommates as well. During college, she and Emmy traveled to Paris and also to Bolivia, where they lived together with a local family for a month. After college, Melissa moved to New York for her MD and MPH before returning to her midwestern roots. Baby McFarlane is arriving in May and will hopefully make it to the wedding!

Julia Dahl was Emmy's freshman year roommate at Yale and therefore has perhaps the most embarrassing stories about Emmy. A Californian by birth, since college she has studied writing and journalism and has lived in New York, Washington DC, and Atlanta. She now lives in Brooklyn with her sweetheart Joel and works as a freelance writer.
Groomsmen
Jon Schwabish is an economist in Washington, DC. Jon and Michael met at Johns Hopkins in Baltimore while attending graduate school (Jon was two years behind Michael in the economics program there). Jon kept Michael socially active during grad school, introduced him to Teague, and has housed Michael on a few of his trips to DC.

Teague Ruder works for the Rand Corporation in Washington, DC. Teague and Michael met at Johns Hopkins, also—Teague and Jon Schwabish were in the same entering class in the economics department. Teague and Michael also shared an apartment for a year and a half when they both lived in Bethesda MD, and both worked for some time at the U.S. Department of Labor's Bureau of Labor Statistics.