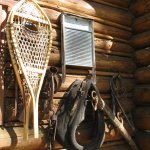 We feel lucky to have found each other and to have had such an abundance of love and support in our lives. Although we would enjoy items to help us furnish our new life together and entertain visitors, we would also greatly appreciate loans or donations (see below) in lieu of gifts. Michael's background in economics, and Emmy's in public health, have made global poverty (and its many effects on personal and community health) an important issue for us. The environment is another cause near and dear to our Coloradan hearts.
Gift

We have begun to register at Crate & Barrel and at Bed, Bath & Beyond. We will be updating these as the date draws closer.

Lend

Kiva is a remarkably transparent organization that allows you to lend small amounts of money to poor entrepreneurs across the globe. As of October 2007, they pass on 100% of loaned funds to microfinance "field partners" and do not themselves charge interest on the loan (field partners can and do charge interest, but you will not be paid interest on your loaned funds). Kiva provides useful and honest answers to important questions on their website. We encourage you to explore the Kiva website and consider lending to people who need access to small amounts of credit. Even if you wish to give us gifts directly, you may wish to consider loaning through Kiva or a similar organization and giving the loan funds as they are repaid.

Funds promised to borrowers through Kiva constitute reasonably low-risk loans that you make with the expectation of repayment, so they are not tax-deductible as charitable donations.

Donate

The Natural Resources Defense Council ("NRDC") is a nation-wide advocacy group that works to protect environmental assets through research, public education campaigns and legislative and regulatory action. The NRDC has helped draft much of the United States' environmental legislation in the past four decades, and has worked to ensure that the government enforces the laws on the books. The NRDC website is a bit difficult to navigate, and useful information is sometimes tricky to find, but there are numerous other resources on the web that may help, including Charity Navigator and Wikipedia. You can make donations here.

The NRDC is a 501(c)(3) charitable organization, so your donations are tax-deductible.