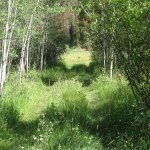 Colorado is a beautiful state, and we are thrilled to have so many family and friends coming to visit. Although best known for fantastic winter skiing, Summit County also has countless summer activity options. Below are some ideas for your free time … not endorsements, as we haven't used most of these companies, but a place to get started. Prices and details may have changed.
General Information
General information on the town of Breckenridge, local activities and trip-planning services are available at Breckenridge Central Reservations. General information about the town of Silverthorne, near where the Betz cabin is located, is available at the Town of Silverthorne website
Activities
Biking
Available at Breckenridge Fun Park (below). Bikes also available for rent at multiple shops in town. A paved scenic bike path runs from Breckenridge to Frisco; Mountain Wave allows one-way rentals and the free Summit Stage bus can bring you back. ($15 and up). Call 970-453-8305 or 800-453-3050 or email mtnwave@colorado.net.
Amusement
Breckenridge Fun Park on Peak 8: Scenic chairlift rides, Alpine Slide, climbing wall, zip line, miniature golf, super-trampoline with harness, panning for gold, and mountain biking. Call 800-789-7669 or 970-453-5000.
Fishing
Fishing is free on the Blue River in Silverthorne, provided that you have a Colorado license. One-day licenses are available…DOW website? Fly-fishing trips and lessons offered by Mountain Angler (800-453-4669).
Hiking
On Saturday there will be plenty of opportunities for short and long hikes from the Betz cabin (all possible with tennis shoes but hiking boots can be more comfortable if you have them). There are also trails around Breckenridge; look on local maps for details.
Local History
Breckenridge offers the free Barney Ford Museum, the free Edwin Carter Museum, historic walking tours, and nearby gold mines. More information is available from the Breckenridge Heritage Alliance.
Horse-back Riding
90-minute trail rides ($50 a person) are offered at Breckenridge Stables. Call 970-453-4438 or email brad@breckstables.com.
Pampering
Rafting
Arkansas Valley Adventures (longer trips around Colorado)
Shopping
Breckenridge is home to many art galleries and other boutiques and specialty stores, mostly located along Main Street. The Silverthorne Factory Outlet Shops are located right off I-70 in Silverthorne, exit 205. link to website
Activities Elsewhere in Colorado